Published June 7th 2011 by Story Plant, The (first published April 7th 2011)
Source: Tracee of Pump Up Your Book


Oosa Book Club 2nd Quarter Challenge book 12 of 13


About Emily Sue Harvey
Emily Sue Harvey, author and speaker, writes to make a difference. Dozens of her upbeat stories and articles appear in Chocolate for Women, Chicken Soup for the Soul, women's magazines, websites, and other anthologies.
She is the author of the novel
Song of Renewal
and the novella
Flavors
H. Her new novel,
Homefires
, will be followed by two more novellas and another novel (Unto these Hills) later in 2011.
About Homefires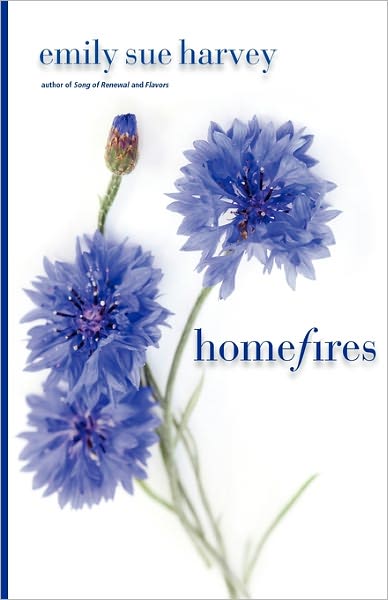 Homefires is set in the Deep South's Bible Belt on the eve of unprecedented moral changes. It is the story of Janeece and Kirk Crenshaw, a couple married just after their high school graduation who set out to make a life for themselves. It is a life marked by surprises, none more dramatic than when Kirk receives his "high-calling" and becomes a pastor. It is a life marked by tragedy, the most heart-rending of which is a devastating event very close to home. And it is a life marked by challenges: to their church, to their community, and most decidedly to their marriage. And as the fullness of time makes its impact on their union, Kirk and Janeece must face the question of whether they have gone as far as they can together.
Filled with the rich emotions and evocative characters that fans have come to expect from Emily Sue Harvey, and reminiscent of the work of Jan Karon and Anne Rivers Siddons,
Homefires
is a poignant and compelling novel that will steal readers' hearts.
My Review:
I loved Flavors by Emily Sue Harvey, so when I saw this book up for review, I jumped at the chance to be on the tour. I was a little disappointed in this book.
Janeece and Kirk were young and innocent kids that were in love. They decided to "save themselves" for marriage and eventually they got married. Some of the parts of the book I could relate to, like when they were going on a trip and one kid had to sit on "the hump" in the middle of the back seat. I remember clearly going to Texas when I was little and we had to take turns riding on "the hump". So, I did feel kind of a connection with the characters, but not as much of a connection that I would have liked.
I do like reading a variety of books, but this one just didn't hold my interest as much as I had hoped. I have friends that I would recommend this book to (Staci). It all depends on your taste in books I guess as to whether or not you would like this one. The only way you will know is to just read it yourself! I do recommend that you read Flavors by Emily Sue Harvey though!
My Rating:
2/5 Diamonds
It was just okay.
View the tour information here:
Disclaimer: My thoughts on this book were in no way influenced by the author or publicist. They are my personal reflections based solely on MY experience while reading this novel.



© 2011, Cheryl of

Black Diamond's Book Reviews

. All Rights Reserved. If you are reading this on a site other than,

Black Diamond's Book Reviews

,

Urban Image Magazine

, or Cheryl's feed, be aware that this post has been stolen and is used without permission.