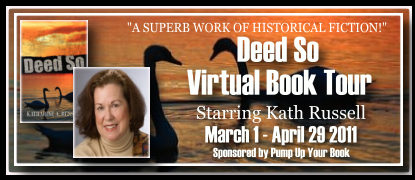 Welcome to 1962, one year before the world would witness President John F. Kennedy assassinated, and a time before civil rights, women's rights, and the Vietnam War changed everything. Deed So by Katharine Russell chronicles the coming-of-age of brainy twelve-year-old Haddie Bashford, a sensitive young girl who wants nothing more than to leave the close-minded world of her home in Wicomico Corners. When Haddie witnesses the killing of a black teen by a down-on-his-luck white farmer, her family becomes embroiled in a web of hatred that threatens to engulf the whole town. Tempers flare and prejudice heats to a boiling point, even as Haddie struggles to fully comprehend what is going on, especially the dark consequences within her own family. When the murder case goes to trial, neighbor is pitted against neighbor, and the violence escalates to a dangerous level. As the case drags on, arson erupts, paralyzing the community. Can the town—and Haddie—survive?
Intertwining the major themes of struggle, equality, loyalty, and love that defined a generation,
Deed So
is a provocative snapshot of a tense time in history. Filled with larger-than-life characters, pitch perfect dialogue, and a wonderful sense of history,
Deed So
is as moving as it is thrilling. Haunting, edgy, and thought-provoking, this is a perfect read for fans of
To Kill a Mockingbird
or Nicholas Sparks.
Click
HERE
to read Chapter 1
My Thoughts:
This book was told by 12 year old Haddie Bashford and takes place in 1962. Haddie lives in a small town in Maryland where everyone knows everybody's business. It reminds me a lot of the town where I live. Haddie just wants to get out of the small town and move to the big city!
Haddie was raised in a home where African Americans were considered friends. She didn't view them as any different than anyone else. When things started happening in her town, she really experienced the fact that racism existed. Katharine Russell does a good job in this book of describing the segregation that existed in this time period.
I wanted to read this book because I loved Katharine's book "A Pointed Death" and gave it 5/5 diamonds. I thought Deed So was an okay book. I really am not big on historical fiction, but I wanted to read more of Katharine's work. I just felt like this book is a little slow moving for me, and I didn't really get into it as much as A Pointed Death.
I just have to say that I am really looking forward to reading the next book in the Pointed Death series!
I will be interviewing Katharine Russell tomorrow, so check back!
Book Details
Title: Deed So
Author: Katharine Russell
Publisher: CreateSpace
Release Date: November 18, 2010
Source: Received from the Pump Up Your Book Tour
My Rating: 3/5 diamonds
Here are some more reviews of Deed So that you might like to look at:
Tales Of A Book Addict
Ms. Martin Teaches Media
Disclaimer: I was not compensated for my review. My thoughts on this book were in no way influenced by the author or publicist. They are my personal reflections based solely on MY experience while reading this novel.