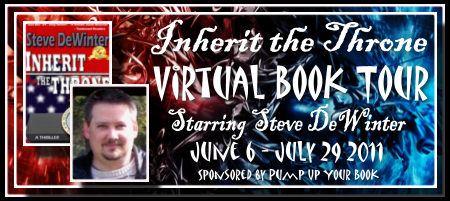 About Steve DeWinter
I was born and grew up loving to read. But enough about me; you're here for my books. If you like super-charged thrillers that merge high-tech gadgetry with ancient mythology and pit the outcast against powerful clandestine organizations, you are among friends.
My goal as a writer is to transport you to fresh and exciting worlds that not only take you on a white-knuckle ride but leave you hungry for more when you finally turn that last page and reluctantly slam shut the back cover of the book.
This is my promise to you the reader.
I will continue to satisfy your never-ending desire for more. So keep reading!
When one story ends, another begins.


About Inherit the Throne
Some lines should never be crossed.
Living under a new identity in the tiny Northwestern tourist town at the base of Mount Hood, Melissa thought she had finally escaped her past. That is until an assassin tries to kill her and forces her back into a treacherous shadow world she vowed never to return.
That same night an unmanned robotic SUV slams into the limousine of the Vice President of the United States and detonates with several hundred pounds of explosives. Melissa soon discovers that the attack on the Vice President and the attempt on her own life are related.
And time is running out to find out who wants her dead and why she alone holds the key to saving the President of the United States.
My Review:
I've never watched the television series 24, so I can't really compare the two. The book started out great! The vice president went into a bathroom that was supposed to have been secure. Someone was hiding in there. They had plans on assassinating the vice president. From there the action just didn't stop!

The main character Melissa was a great character! I really hope to see more books from the author with Melissa! She was a tough woman and really made the story. Some of the other characters were a little hard to keep track of at times as to who was who though.

The story was full of action and suspense. If you like to read thrillers, then I would recommend this one! I am looking forward to reading more books by Steve DeWinter!
Published April 4th 2011
Source: Steve DeWinter
Disclaimer: My thoughts on this book were in no way influenced by the author or publicist. They are my personal reflections based solely on MY experience while reading this novel.


© 2011, Cheryl of

Black Diamond's Book Reviews

. All Rights Reserved. If you are reading this on a site other than,

Black Diamond's Book Reviews

,

Urban Image Magazine

, or Cheryl's feed, be aware that this post has been stolen and is used without permission.