Published March 12th 2011 by StoneHouse Ink
Source: Pump Up Your Book
About Ray Ellis
Ray Ellis began his law enforcement career with the Orange County Sheriff's Department in Orange County, California. After working for a number of years in the maximum security facility, he transferred to patrol working along Orange County's coast as well as the inner canyons and barrios. After 8 years he moved to Idaho and continued his law enforcement career, serving as an instructor for the Idaho POST Council.
Ray was first ordained into the ministry while living in Orange County and now serves as the Associate Pastor in his home church in Nampa, Idaho. A former United States Marine, he is a public speaker, communicating to groups of all sizes on the topics of community and personal safety. Since 1999 Ray has been a primary instructor for the Idaho POST Academy – Police Training Institution for Idaho- instructing on subjects of Arrest Control, Cultural Diversity and for the last five years exclusively on the topic of Instructor Development, where he teaches other officers to be POST certified instructors. He is currently serving as the lead sex crimes investigator for the agency where he works. He has been married to the same woman for 27 years and has three children; two sons and a daughter. Ray lives with his family in Idaho.
About N.H.I.: No Humans Involved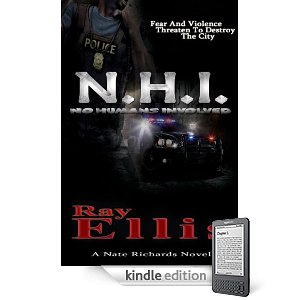 Half of Treasure City is controlled by a violent street gang. The other half is controlled by fear. A rookie detective, Nate Richards, is thrust between the two. Abyss, a mysterious street gang moves into the valley and people have started dying. Nate's girlfriend suddenly disappears and the gang is being targeted as the cause. With his partner fighting for her life – the result of a vigilante's bullet, political pressure from above, and time running out to find his missing girlfriend, Nate has to overcome the darkness that has taken over the city and threatening to consume his soul. Forced to fight to stay on the case, he has to work against his command and the elements of the streets while trying to hold on to his faith that seems to make less and less sense as details unfold. With darkness growing and evil seeming to swell, will Nate have enough time to solve the murder and discover the identity of the new gang leader before his girlfriend becomes the latest victim in the growing violent total? Will he succumb to get the job done by any means necessary, or will he become part of the problem and prove that there are No Humans Involved?
My Review
This was an excellent first book by Ray Ellis! I enjoy reading books with a lot of action and suspense, and this book sure didn't disappoint me at all!
After I read the book I saw that it was a christian murder mystery. This book was not at all a church type book trying to preach to you. I have read non-christian books that have felt more preachy than this book. Don't get me wrong, it did have bible references in it, but they fit well into the story.
We are introduced to Detective Nate Richards. He is trying to solve the case of a murder of a fellow police officer and a teen boy.
His partner is also injured during a shooting.
The anarchist symbol seems to be the killer's trademark. That leads Nate to think that it is a certain gang that is doing the killings.
I definitely recommend this book! It had a great mix of characters. The action was intense, and the ending was very surprising! I am looking forward to reading the next book written by Ray Ellis!
N.H.I.: No Humans Involved Virtual Book Tour Schedule

Monday, June 6
Tuesday, June 7
Thursday, June 9
Book reviewed at
Book Reviews by Molly
Friday, June 10