About Lisa Gardner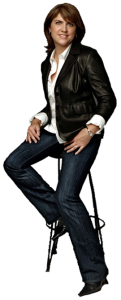 Lisa Gardner
is the
New York Times
bestselling author of thirteen novels. Her Detective D. D. Warren novels include
Live to Tell, Hide, Alone,
and the International Thriller Writers' Award-winning novel
The Neighbor.
Her FBI Profiler novels include
Say Goodbye, Gone, The Killing Hour, The Next Accident,
and
The Third Victim
. She lives with her family in New England.
Lisa's latest book is
Love You More
. Visit her online at
http://lisagardner.com/
.
WHO DO YOU LOVE?

One question, a split-second decision, and Brian Darby lies dead on the kitchen floor. His wife, state police trooper Tessa Leoni, claims to have shot him in self-defense, and bears the bruises to back up her tale. For veteran detective D. D. Warren it should be an open-and-shut case. But where is their six-year-old daughter?

AND HOW FAR WOULD YOU GO . . .

As the homicide investigation ratchets into a frantic statewide search for a missing child, D. D. Warren must partner with former lover Bobby Dodge to break through the blue wall of police brotherhood, seeking to understand the inner workings of a trooper's mind while also unearthing family secrets. Would a trained police officer truly shoot her own husband? And would a mother harm her own child?

. . . TO SAVE HER?

For Tessa Leoni, the worst has not yet happened. She is walking a tightrope, with nowhere to turn, no one to trust, as the clock ticks down to a terrifying deadline. She has one goal in sight, and she will use every ounce of her training, every trick at her disposal, to do what must be done. No sacrifice is too great, no action unthinkable. A mother knows who she loves. And all others will be made to pay.

Love you more . . .
My thoughts:
This is the first book that I have read by Lisa Gardner, and I want to thank the Pump Up Your Book Tour for letting me be a part of this tour!
Love You More was a fast paced book! I was trying to figure Tessa out. What was up with her and her husband's relationship and why did she kill him. I kept wanting to know also what happened to their 6 year old daughter. Tessa really seemed like a good mother. Nobody had any complaints about her, but then when I found out a little about something that happened in the past, I just didn't know what to think. Detective D.D. Warren wants to get to the bottom of what has happened.
This book was really hard to put down and really kept my attention. There was so much action going on, and I really couldn't wait to get to the end to see how it all turned out. I had no idea that the end would turn out the way it did. I was not disappointed in this book at all and look forward to reading more books by Lisa Gardner! I highly recommend this murder/mystery!


5/5 Diamonds
Book Details:
Title: Love You More
Author: Lisa Gardner
Publisher: Bantam
About the Book: Paperback Advance Reader's Edition, 356 pages
Source: Pump Up Your Book Virtual Tour

Disclaimer: I received this book from the Pump Up Your Book Virtual Tour. I was not compensated for my review. My thoughts on this book were in no way influenced by the author or publicist. They are my personal reflections based solely on MY experience while reading this novel.
© 2011, Cheryl of

Black Diamond's Book Reviews

. All Rights Reserved. If you reading this on a site other than,

Black Diamond's Book Reviews

,

Urban Image Magazine

, or Cheryl's feed, be aware that this post has been stolen and is used without permission.